Welcome to the Grant School Website!
PTA Newsletter
Fun Stuff : 
Conversation Starter: 

What do you worry about the most?
Trivia:  
Can you place these shapes in order of how many sides they have, beginning with the least number of sides first: nonagon, hexagon, heptagon, octagon, triangle, pentagon, square?
What's Happening at Grant: 
Screenagers - showing 4/26
An eye opening documentary about teen life in the digital age, Screenagers is showing at the Cavanaugh Center on 

April 26th

 from 6:30

-8:30 pm

 with a panel discussion following the show. Pre-teen and Teenage years will be here in a flash and this is a great way to start preparing for what lies ahead.  
Sign Up Parties for Everyone! 
For Kids: Art and Science Party, 4/28
Limited space left!  Enjoy Art and Science Night with Mrs. RC, Mrs. Casey, Setsuko and Ms. Dugar in Room K1. Kids will get to rotate through 2 Art Stations, 2 Science Experiments, and have Snacks with the Teachers!  Don't delay as the party is set for 4/28 from 5:30 

- 7:30 pm

. Cost is $25 per child. 

Parent's Night Out with Todd in the Quad
Principal Todd will host kids for a giant pizza party.  It's a perfect opportunity to head out on a date night while the kids have a blast at school.  Fun for all involved.  Details coming soon on "Todd in the Quad" or inquire in the office to secure your child's spot!

For Grown-Ups:  Kentucky Derby Party, 5/6
Let's celebrate the "best two minutes in sports."  Come in your traditional derby attire, watch the race and enjoy mint juleps and derby inspired appetizers, then pick the winners and take home the jackpot!  Best derby hat also takes home a prize. Hosted by the McCardle and Barrera Families.  The Party is on 

May 6th

 at the McArdle House, Post Time 

3 pm

and the cost to attend is $40. 

Spots for these parties are filled on a first come, first served basis.  Please email Chantel at Chantellylace707@hotmail.com and leave a check with a reference to your party in the memo line in the PTA basket.
Pamper & Donate - the entire month of May
Just in time for Mother's Day, a luxurious Pamper & Donate from Skinergy.  Enjoy a blissful one-hour facial, a tanning package ahead of your summer vacation or enjoy any service offered at Skinergy during the month of May and this great, Grant parent owned business will donate part of the proceeds back to the Grant PTA. Winners all around!  So treat yourself, your mom, your mom friends...the list is endless.  Check out the list of services offered at skinergy  www.skinergyskincare.com
Dine and Donate at Brewsters 5/2
This Dine & Donate event benefits Grant families in need - those among us who are in crisis or going through temporary difficulty.  The Grant Good Guys (aka Grant Cares) will provide meals, gift cards, transportation and as much relief as possible for our fellow Grant families going through tough times.  It's a great reason to head to the hot new restaurant/beer garden in town, Brewsters, on 

May 2nd

.  Bring a flier and Brewsters will donate 10% of your check to help those who need it most.  If you need a printable version of the flier, emailkimmccallister@gmail.com  
Spring Concert, Chorus & Band 5/10
Grant is full of talented kids.  Come check out the Spring Concert on 

May 10th

 and treat your ears!  The Chorus will perform at 

6:30 pm

 and the Band will take the stage at 

7:30 pm
Volunteer Breakfast 5/12
A celebration of Grant's volunteers.  If you've helped in your child's classroom, chaperoned field trips, assisted with art projects or school events, helped spruce up the garden, maintained the display case...whatever you've done this year at Grant - we want to thank you.  We know Grant would not be as successful without all the parent support and involvement.  So, come have breakfast on us and feel the love. 
Grant PTA BBQ - All Grant Families Welcome 5/12
This is a really fun night for Grant Families.  Bring a blanket to spread out, your camping chair and your dancing shoes!  The Grant PTA will provide dinner and music.  The kids have a blast running around the field dancing and playing and it's a great way to celebrate our Grant Community.  Hope to see you on the field! 
First Grade Play 5/15
Becoming a tradition at Grant, written by the amazing 1st Grade teachers and adorably performed by the 1st Grade students, the 1st Grade Play is one of those things parents will never forget.  Don't forget to bring tissue for all the mom tears. 
Lion King
Wrap Up
That's it for the Lion King.  We hope you enjoyed the show because the cast, crew and volunteer organizers had a blast putting it on.  We'll see you again next year (we are looking for volunteers to get involved with Performing Arts - if that's you, emailkimmccallister@gmail.com) until then...enjoy these great pictures from the show!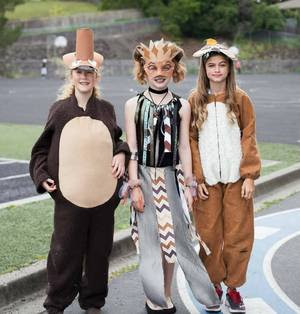 In The Thank You Column
Thank you to Lisa DeCota and all the volunteers who came out to celebrate Earth Day by making the Grant garden beautiful! 

To the Performing Arts parent volunteers, Heather Paschoal (9th and final year of putting on the play!)  Sheri Chlebowski, Lisa Johnson and Tracy Johnson for putting together a great show.  The kids had a wonderful time.

Thank you to the parents who helped with concessions (Alyna Christiansen) Make-up/costume changes (the Repetto family) Passing out programs (Chantel Smith & Bev McCallister) Chair clean-up and more at the performances. Grant Performing Arts parents are the best!

To Tracy and Jim, our Grant custodians, thank you for all the extra work helping with chair set up and facilities for the play.  
At A Glance
April 26

                   Screenagers Showing at Cavanaugh Center 

6:30 pm
April 28

                   Art & Science Sign-Up Party at Grant  

5:30 pm

 
MAY


May 2

                     Dine & Donate at Brewsters
May 6

                     Kentucky Derby Sign-Up Party


May 10

                   Chorus Spring Concert 

6:30pm

/Band Concert 7:30pm
May 12                   Volunteer Breakfast 7:55am
May 12                   Grant PTA BBQ - 

5pm

 All Grant Families Welcome! 


May 14

                   Mother's Day 


May 15

                   First Grade Play 

6pm




May 16

                   Westside Relays


May 18

                   Open House and Art Show


May 26

                   iPads due in to teachers


May 26

                   6th Grade Celebration


May 29

                   Memorial Day - Observed NO SCHOOL

June


June 1

                    Field Day


June 2

                    Last Day of School! Enjoy the Summer




Trivia Answer: 

Triangle, square, hexagon, pentagon, heptagon, octagon, nonagon


| | |
| --- | --- |
| School Calendar and Events | |