PTA Newsletter
Share With the Kids: 


Conversation Starter:

What makes someone a good friend?


Would you Rather:

Speak every language in the world or play every instrument?




Trivia:

True of False, Light waves travel faster than sound waves?


What's Happening at 

Grant

:



Suspicious Person Approaches

Grant

Student 
On Friday, 2/16 at about

5pm

, a

Grant

5th Grade girl on campus told police about a man offering candy in an apparent attempt to lure her into a vehicle.  The girl ran to safety and the suspect got into a car and drove away.  The suspect was described as being a white male in his mid 40s to early 50s with a heavy build, about 5'10 with a dark beard and tattoos on his legs.  A vehicle was described as an older light blue sedan with dents and faded paint. Petaluma Police Sergeant Lance Novello says a car like the one described by the student was parked at the school.  Its owner was contacted and ruled out a suspect.  Sergeant Novello says the man described had a full sleeve of tattoos on his legs, which this person did not.  There are no suspects in custody and the investigation is ongoing.  Please be aware that

Grant

does not provide supervision after school hours (unless students are enrolled in a specific program) so please ensure that your children have adult supervision. The

Grant

Principals will communicate updates as they become available.

 

Conference Schedule Coming Up: 
*

Wednesday

schedule due to teacher conferences:

February 26th-March 2nd

.
  For Kindergartners that means an 

11:40pm

 pickup, for grades 1-6, a 

12:45pm

 pickup.

Lucky Strike, Shamrock Boys Bowling 2/25
Last Call - Please RSVP by turnng in form/payment to the PTA basket in the office by

Wednesday 2/21

.  We'll be giving our final count to the Bowling Alley for Lucky Strike Shamrock Boys Bowling that day.  The event is on

February 25th from 3-5pm

and includes games/shoe rental, contests, popcorn, lemonade, a yummy dessert bar and a goodie bag. 

Grant

boys are invited to bring the grown up of their choice.  Cost: $30 per couple (boy/grown up) and $10 per additional child.   For questions contact: kimmccallister@gmail.com


Lucky Ladies Shamrock Dance, 3/3
Last Call: Please RSVP by turning form/payment into the PTA basket in the office by

Wednesday, 2/21

.  

Grant

Girls are cordially invited to bring the grown-up of their choice to a very special dance at the Cavanaugh Center on

Saturday, March 3rd from 6:30-8:30pm.

Cost: $30 per couple (girl/grown up) and $10 per each additional child. Questions?  kimmccallister@gmail.com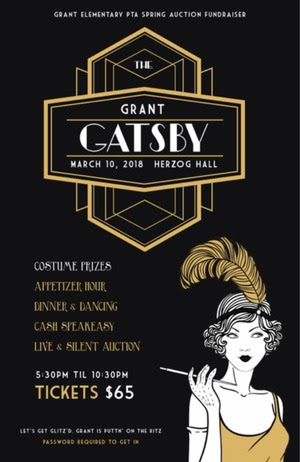 The

Grant

Gatsby Gala Auction, 3/10
*Got Wine?  We need it for the

Grant

Gala Auction!  Please bring any bottles you'd like to donate to the

Grant

office.  Donation forms and ticket forms can be found at the bottom page at this link: www.grantelementary.org/home/pta/fundraising  

*It takes a lot of volunteers to make this event happen.  Please consider joining us.  Needs are listed on this Sign Up Genius.  http://www.signupgenius.com/go/904084aacab28a64-calling 

Questions: Dori at donationsforgrant@gmail.com or (707) 479-8416.







Say Cheese!  Spring Portraits, 3/15




Thursday, March 15th

, Steven Yeager Studio returns to

Grant

School to take beautiful Spring Portraits. Watch for posters at school and fliers in early March. Only students who turn in order forms by

March 15th

will be photographed.  It's a great chance for new students who missed Fall pictures to be photographed for the yearbook.  *The Sixth Grade Group photo will also be taken on 3/15! 


PTA Association Meeting & Board Elections 3/15
Come to the meeting on

March 15th at 6pm

on campus and let your voice be heard!  We'd love to have more parents involved in discussions about how to make

Grant

the best it can be for our kids. 

*Think ahead to Spring Break!  Taking a trip to Legoland or the California Academy of Arts & Sciences.  Join PTA for $15 and get these major discounts and perks: http://capta.org/join/member-perks/





Grant

Yearbook - With 2 Free Custom Pages! 
This year's

Grant

Yearbook includes 2 FREE custom pages. It's quick and easy to add photos and memories. Here's how:
To Purchase and Customize your Yearbook visit www.TreeRing.com/validate   *must be a parent or student 13 years or older.
Enter our school's passcode: 1015022997383930

Register and begin decorating and designing your child's custom pages.

Add photos from your computer, Facebook & Flickr.

Share them with your classmates to include in their personal pages.



Grant

Adopt a Book Month 
Mrs. Crysdale would like to give a great big thank you to all the families that have already participated in Adopt-a-Book by either purchasing a book via Amazon or sending in a check for her to purchase a book for the library.  Adopt-a-Book continues throughout the month of February, so there's still time!  
 




Lost and Found Mound to be Donated
The Lost and Found area continues to grow with lunch boxes, water bottles, nice coats and sweatshirts all waiting to be claimed.  Lost & Found is located to the right of the multi during school hours. Please come get your child's things as all unclaimed items will be donated the

Friday

before spring break.




A message from the Principal -

Grant

is NOT a dog park
School officials are asking members of the community not to bring dogs onto the

Grant

Playground or campus.  Dogs are not welcome, unless cleared by office staff, and that includes the track and field area. Dog feces is a real problem during the school day as people walking dogs during off hours are not cleaning up after their animals and even when they do, residue is left behind and gets on children.  It's causing problems for students and teachers. Please find another place to excercise your dogs.  Thank you! 
In the Thank You Column:
To Maryann Pacheco for the fancy looking invitations to the bowling & dance events, thank you so much! 

A big thank you to Principal Ron Everett for his work with the

Grant

PTA

Thank you to Kimberly Murillo, Jenn Rizzo and Trish Hernandez for all your work overseeing the kids in the play.  It's so appreciated.  
 
At A Glance
  
February 


February 22

                           Priority Kindergarten Registration Ends


February 23

                           Adopt-a-Book ends


February 25

                           Lucky Strike - Shamrock Boys Bowling

3-5pm




February 26-March 2

              Conference Week - 

Wednesday

Schedule


February 26-March 2

              Read Across America

March


March 1

                                Dr. Suess' Birthday Party


March 3

                                Lucky Ladies Shamrock Dance

6:30-8:30pm

   


March 10

                             

Grant

Gatsby Gala Auction


March 15

                              Spring Pictures/6th Grade Photo Day


March 15

                              PTA Association Meeting

6pm

in the Multi/Library


March 19-23

                         Spring Break  


March 29

                              Ice Cream Social