PTA Newsletter
Share With the Kids: 


Conversation Starter:

What has been the happiest day of your life?


Would you Rather:

hold a snake or kiss a jellyfish?


Trivia:

How long do Pill Bugs or Rolly Polly Bugs live? (Answer at end of message)

Here's What's Happening at 

Grant

:

This Week is Kindness Week at

Grant

- Wear your PJs

Monday

and compliment a staff member!

Keeping Up With The Changes 
We Celebrate the Success and exciting roads ahead for:
Principal Todd who is taking a job closer to her home to be near her new baby
Welcome to Miss Grey, stepping into

Grant

's Principal role next year.
Congratulations to Mrs. Megna, retiring after more than three decades in the classroom.
Congratulations to

Grant

's Reading Specialist Patty Paula, who is leaving

Grant

to head to graduate school! 
Dine & Donate at Pinky's Pizza, 4/19
Come have a little pizza, play some arcade games and socialize with other

Grant

families! Pinky's will donate 15% of the night's receipts to

Grant

!  No need to present a flyer at this event, just mention you are there to support

Grant

.



Grant

Performing Arts Presents, Moana, 4/20 & 21
We have a fantastic cast with an amazing show in store, from monsters to hula dancers to voyagers, villagers and kokamora!  Come see the

Grant

Shamrock Production of Moana - Showing

Friday, April 20th at 6pm

and again

Saturday, April 21st at 2pm

(cast party to follow.)  We will have candy leis, tropical smoothies and treats and flowers for sale benefitting the

Grant

PTA.  
Grant

Garden Club - Special Earth Day Gathering,

Sunday 4/22
Come spend some time with our retiring Ms. Megna to create the new Outdoor Learning Environment.  
We need your help to build

Grant

's all-new interactive vegetable & herb garden! The raised beds and outdoor work tables will help teach our kids about healthy nutrition and where food comes from.
Volunteer day, April 22 from 

10am-3pm

:
*Building raised beds, installing irrigation, installing pathway
Any amount of time you can donate is appreciated!!
Sign up now at https://dailyacts.org/events-1/?eid=8710
Pizza & Ice Cream with Mrs. Casey, Mrs. Reed and Mrs. Jimenez, 4/25
Date Change!  Pizza & Ice Cream with Mrs. Casey, Mrs. Reed and Mrs. Jimenez, was on 4/28...but that's the 100th annual Butter & Eggs Day Parade!  That will never do!  So, on Wednesday, April 25th, students attending will walk, afterschool, from Grant to McNear Park with the teachers. Pizza, ice cream and fun will happen!  Pick-up at McNear park by 1:30.  Students going to the YMCA after the party will be walked back to school by the teachers.  Cost $30 per student.  Please sign up in the party binder in the office!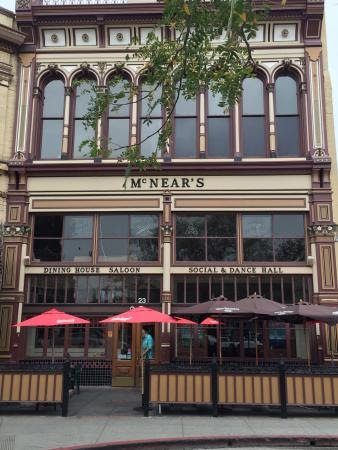 Dine and Donate at McNears, 4/26


Have lunch and dinner at McNears on

April 26th

because 20% of your receipt will be donated to

Grant

when you mention that you're supporting the

Grant

Dine & Donate!  Reservations are so appreciated!  Get a group of families together and go have some fun at McNears!  For reservations, call (707) 765-2121.
Kids Painting Party & Parent's Night Out, 4/27
A wonderful time for kids to get together and create something beautiful.  Miss Yuli will lead the way for our young artists, helping them create something special to take home.  Games and Snacks provided.  Cost is $30 per student.  Sign Up Party is

Friday, April 27th from 6-9pm.

  To Sign-up, please contact:  yuli_tkd_22@yahoo.com
Wild Ones Wildflower Hike with Ms. Megna and STEM Teacher Michelle Katuna, 4/29 
What could be more lovely than a hike through our Petaluma wildflowers learning about nature?  Meet at Helen Putnam Park on

Sunday, April 29th from 1-3 pm

for a little fun on the playground and some nature time identifying flowers, plants and tracking animals.  Picnic lunch provided.  Children ages 6 or older, please.  Long sleeve shirts and pants are recommended (tick season.)  Cost per student: $30. Please sign-up via the binder in the office.
Looking for Summer Camp Ideas?  
Girls United Soccer Summer Camps




Grant

Mom, Stacey Vogel, is behind a valuable new program in Petaluma to build self esteem and confidence in young girls through the game of soccer.  Built by girls, for girls.  Check it out: www.girlsunitedsoccer.com



Luma Kids Camp


A

Grant

family owned gym with an easy, flexible schedule.  No need to commit to a whole week or plan ahead!  You can decide in the morning and drop off that day.  What?  Yes, pay by the day or the week.  Luma Kids Camp is a safe, fun and interactive place for 1st-6th Graders to improve coordination skills and move their bodies.  Check out lumafitness.net and click on summer. 

Anna B's Cooking Camps
Nurture your child's baking abilities with

Grant

Mom Anna B.  Choose from Baking Basics, Cake Decorating, Summer Treats and more!  Ages 7-14.  Find details https://www.annabskitchen.com/camp
Fundamentals of Cooking-Art Summer Series 




Grant

Mom Dori Venza is behind this excellent program for Kindergartners through 6th Graders.  Cook in the morning, create masterpieces in the afternoon.  Camp held at the Cavanaugh Center 7/30-8/3 from

9am-3pm.

  Cost is $350.  To register email fundamentalsofartpetaluma@gmail.com or contact Dori at (707) 479-8416
Free Bird Academy Summer Camp For 3rd-6th Graders
Three exciting weeks of summer camps: Summer Palooza (6/4-8), Trapped in the 80s (6/11-15) and Game On (6/18-22.)  Camps are for incoming 3rd-6th graders, Monday-Friday, 1:00pm-4:00pm, $200 per week.  Space is limited.  Email: dzsummercamp@outlook.com
In the Thank You Column:
To Reading Specialist Patty Paula - Thank you for all you've done for our

Grant

Kids!
Many thanks to

Grant

's incoming Principal, Miss Grey, who joins us in the fall, for coming to meet everyone last week.  It was a nice opportunity to get to know you ahead of time! 

Thank you to Ms. Beavers and Mrs. Wilson for the awesome sign-up party!  You are the Queens of fun!

Maryann Pacheco and Maren Dever -

Grant

is so lucky to have you both.  Thank you for organizing the bowling event for our

Grant

boys!  You're both so awesome!

Anna Barrera - You are a delight and everyone loved your desert bar at the dance and the bowling event!  Thank you to the moon and back.

Thank you to our wonderful helpers at the bowling event: Dori Venza & Melina Long for checking everyone in, David Borin for helping run the desert bar, Alyssa Pacheco and Millay Reid for photos and popcorn delivery, Avery Ellis and Ellie Hauth for general assistance. 

Thank you to all those who came to the bowling event - you made it awesome! 
At A Glance                      

April


April 18

                               

Grant

Shamrock Garden Club


April 18

                                Last Regular Performing Arts Practice 


April 19

                                Performing Arts Dress Rehearsal - After school


April 19

                                Dine & Donate at Pinky's


April 20

                                Performing Arts Opening Night

6pm




April 21

                                Performing Arts Matinee

2pm

, cast party to follow


April 22

                               

Grant

Garden Workday

10am-3pm




April 25

                               

Grant

Shamrock Garden Club


April 25

                                Pizza & Ice Cream Party at McNear Park


April 26

                                Dine & Donate at McNear's (Lunch & Dinner)


April 27

                                Kid's Paint Night Sign-Up Party

May


May 4

                                  Volunteer Breakfast

7:30am




May 5

                                  Cinco de Mayo! 


May 7-11

                             Teacher Appreciation Week


May 11

                                Todd in the Quad - Sign Up Party!


May 13

                                Mother's Day


May 15

                                Westside Relays


May 17

                               

Grant

Open House & Art Show


May 21

                                Spring Concert


May 25

.                              6th Grade Celebration


May 28

                                Memorial Day - Observed No School
May 31

                                Field Day 

June


June 1

                                 Last Day of School  

Noon

Release
Answer:

Most Pill bugs live for up to two years.  They are most active at night.